^
Det är i deras händer
Från ca. 3,5 till 12 år
Från 100 till 150 cm
Varför välja mig?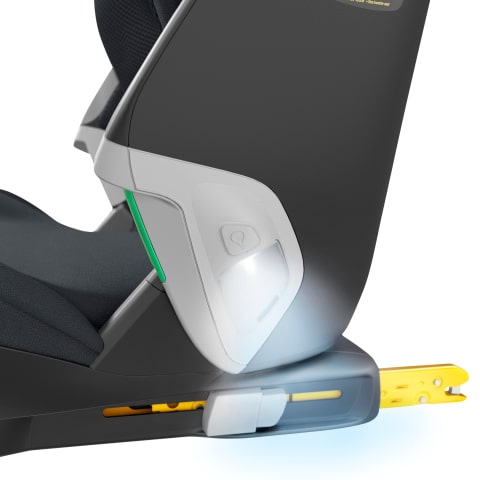 Quick and Easy Buckle up
Kore Pro i-Size detects when your child is sitting on it. The ClickAssist light illuminates the buckle up area, making it easy to click the buckle and the safety belt together in all circumstances.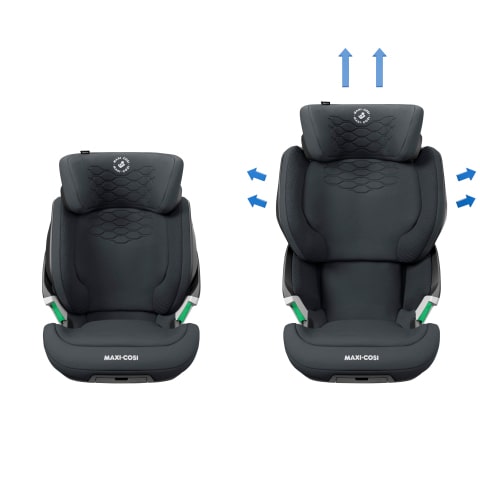 Grows with your child
Designed for children between 100 and 150 cm, Kore Pro i-Size expands in both height and width simply by adjusting the headrest. It gives your child more space and the utmost comfort.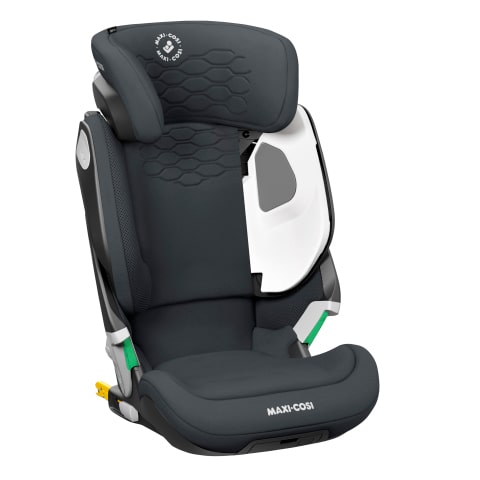 Superior Side Protection
The Kore Pro i-Size shell provides full body side protection by covering your child from lap to head. The car seat is also equipped with the Side Protection System Plus (SPS Plus), which consists of glass fiber shock absorbers in the side wings combined with energy absorbing material. This complete system provides superior side protection for your child at all time.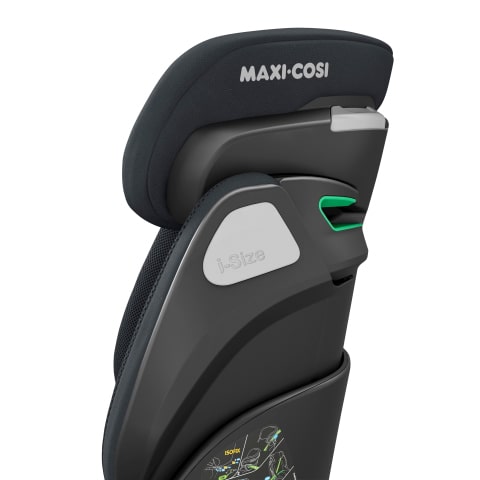 i-Size safety
Meets the highest and latest i-Size safety standards, offering maximum safety for your child.
Produktbeskrivning
Den i-Size kompatibla Maxi-Cosi Kore Pro i-Size gör att ditt barn kan spänna fast sig utan hjälp. Den har ett unikt ClickAssist-ljus som lyser upp spännet för att göra det ännu enklare! Så nästa gång kan ditt barn spänna fast sig själv.
Installation
Oavsett vilken bil du kör, om den har ISOFIX, kommer vår Maxi-Cosi Kore Pro i-Size att passa. För en säker och stabil installation är barnstolen fäst med bilens bilbälte och ISOFIX-system. För att installera vår Kore Pro i-Size, placera den på baksätet på din bil, klicka på barnstolen på bilens ISOFIX-anslutningar och använd säkerhetsbältet för att spänna fast. Efter ISOFIX-installationen kan din lilla spänna fast sig själv. ClickAssist-lampan tänder spännet varje gång din lilla behöver spänna fast sig. Att fästa säkerhetsbältet har aldrig varit lättare!
Visste du att ISOFIX-anslutningen gör barnstolen mer stabil? Visste du att när ditt barn inte sitter i sittplatsen blir det mer stabilt.
Nuförtiden har många bilar ISOFIX, så det finns en stor chans att din kommer att ha den också. Om inte, oroa dig inte: vår Maxi-Cosi Kore Pro i-Size kan också installeras utan ISOFIX. Använd säkerhetsbältet i din bil för att spänna fast dig. Om du har några tvivel om denna bilstol, och du är osäker på om den passar rätt för din bil, titta på vår bilmonteringslista för att upptäcka vilken barnstol som passar din lilla bäst.
Säkerhet
Hos Maxi-Cosi är din lillas säkerhet vår högsta prioritet. Från spädbarnsbärare för nyfödda barn till bilstolar för 12-åringar är vi här för att hjälpa familjer med glädje in i deras framtid. Eftersom vi bryr oss om att ge föräldrar den säkraste bilstolen, har vi utformat vår Maxi-Cosi Kore Pro i-Size för att uppfylla de högsta i-Size-säkerhetsnormerna.
Vår lättanvända Kore Pro i-Size bilstol är designad med ett sidoskyddssystem Plus, vilket ger din lilla överlägset sidoskydd i händelse av att det blir en hård sidokollision. Maxi-Cosi Kore Pro i-Sizes SPS Plus (Side Protection System Plus) minskar risken för skador genom att ta upp kraften från stöten. Förutom den vanliga SPS erbjuder en SPS Plus förbättrad slagabsorberande material som tillförs varje sidovinge. Kombinerat med stötdämpare av glasfiber ger det ditt barn maximal säkerhet. Cocoon shell ger full kroppsskydd på sidan.
Det är i deras händer
Maxi-Cosi Kore Pro i-Size är utformad för att göra det enkelt för din lilla att komma i bilstolen och sätta fast spännet, vilket gör att spännet är inom räckhåll. Den här funktionen låter ditt barn sätta in säkerhetsbältet enkelt. En annan unik egenskap hos Kore Pro i-Size är att dess ClickAssist-lampa lyser upp området, vilket gör det ännu enklare för ditt barn att spänna fast sig- särskilt på natten. Det är allt i deras händer!
När ISOFIX är anslutet till din bilstol lutar ryggstödet i Kore Pro i-Size att passa din bil. Detta ger din lilla en mer bekväm viloposition. Under många år kommer bilstolen att fortsätta vara bekväm, eftersom den växer tillsammans med din lilla. Du kan fortsätta justera ryggstödets höjd och bredd så att den kan växa med din lilla hela vägen tills de är 12 år!
Kore Pro i-Sizes premiumdesign är tillverkad av bambutyger som reglerar temperaturen. Oavsett hur lång resa är, kommer det alltid att vara bekvämt.
Avtagbart lock
Allt kan hända på vägen. Din lilla kan bli bilsjuk, eller drycker och snacks kan spillas. I händelse av en liten olycka har vi täckt upp dig! Maxi-Cosis bilstolskydd är avtagbart och tvättbart i maskinen för att hålla det rent hela tiden.
Dela dina Maxi-Cosi-stunder #myMaxiCosi